PARK CITY, Utah (June 11, 2019) — Live Like Sam and Park City's Youth Sports Alliance (YSA) today announced that they are now accepting applications for the Gratitude Grant Scholarship. This scholarship is one of many initiatives the two organizations have taken to teach young athletes the value in community, athletics, social responsibility, and education.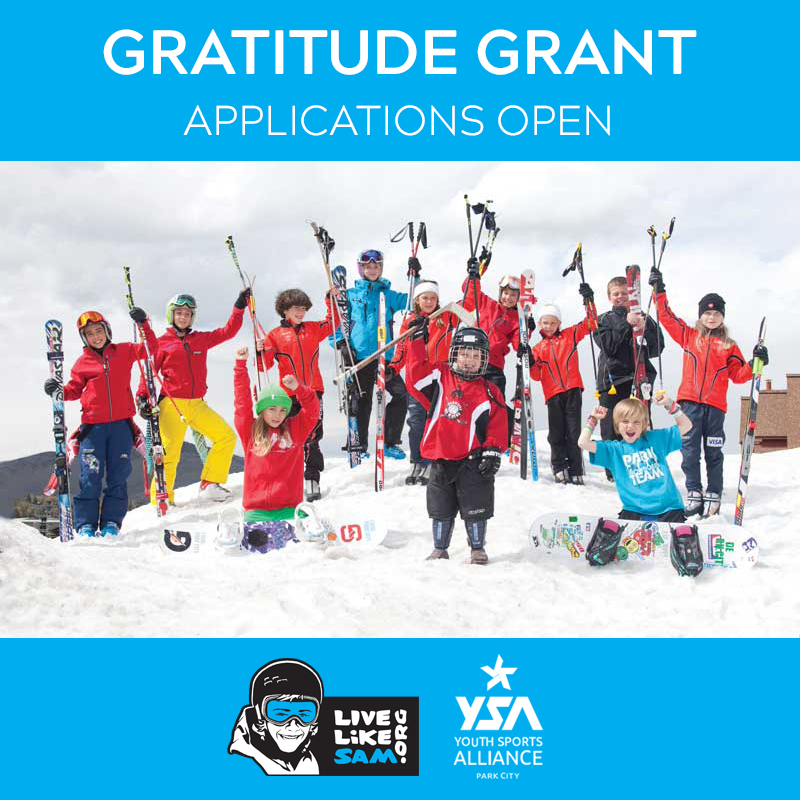 Rewarding young athletes for their exceptional character, the Gratitude Grant was created to show appreciation for those dedicating their lives equally to sport and good sportsmanship. Expressing gratitude falls under social responsibility, according to the Live Like Sam guiding principles. While great talent in a given sport is important, Live Like Sam and YSA emphasize equal importance in young athletes giving thanks and expressing gratitude in their everyday lives.
"Living like Sam is about more than athletics," explains Ron Jackenthal, founder of Live Like Sam. "It's about possessing exceptional character by giving back to the community, being socially responsible, staying educated, and educating others by practicing what you preach. Live Like Sam is proud to reward young athletes living up to these guiding principles every day, and we're excited to have a partner in YSA to make that possible."
The top scholarship winner will receive $500, and the next five winners will receive $250. Winners will be notified in August and will have the opportunity to collect their scholarships at the YSA Circle of Excellence Awards ceremony held at Skull Candy Headquarters this September.
To view the full requirements for the Gratitude Grant and submit your application, visit the program page on our website. For information on scholarship offerings, events, partnerships, and more, sign up for the Live Like Sam newsletter.