PARK CITY, Utah (June 7, 2019) — Live Like Sam today announced the winner of the organization's first-ever scholarship to Woodward, a state-of-the-art camp for competitive young athletes. The winner, 13-year-old Owen Hughes, won the scholarship based on his excellent character and awe-inspiring essay.

Live Like Sam and Woodward partnered to create this unique scholarship opportunity, designed to reward young athletes demonstrating not only a strong commitment to sports, but who also exhibit integrity beyond the realm of athletics. Hughes was selected out of many young athletes who applied for the scholarship, illustrating his sportsmanship and personal values through community service projects, continued dedication to competitive sport, and a character-based essay.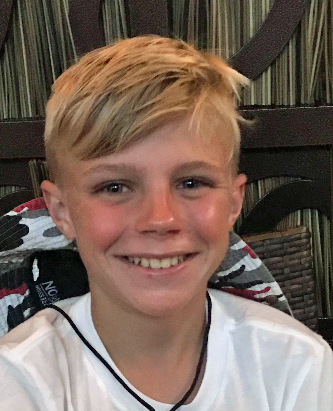 "I try to be nice to everyone I meet," said Hughes in his application essay. "I think everyone has good inside them and I want to try to help every person bring that out in themselves."
Hughes began skiing at just 18 months old and is currently a freeskier with Park City Ski & Snowboard. Starting out competing with Fly Freestyle in the Devo competitions, Hughes has since gone on to compete in USASA, USSA, and IFSA for the past five years.
The Woodward Scholarship was designed to give young athletes who #LiveLikeSam the chance to experience the immersive, high-quality coaching and education available through the camp's impressive facilities. The Live Like Sam values are a reflection of Sam Jackenthal's legacy as one who valued community, athletics, responsibility, and education. To help his spirit live on, Live Like Sam continues efforts to help connect young athletes to the world-class resources available to them like those offered by Woodward.
Hughes will be attending the camp later this summer. Scroll on to read his full essay and get to know the winner of the first-ever Live Like Sam Woodward Scholarship. For more information on LiveLikeSam.org and the Live Like Sam Fund, sign up for our newsletter.
Live Like Sam Woodward Scholarship Application — Owen Hughes
Essay #1 – How do you live like Sam?
My name is Owen Hughes. I am a 13 year old Freeskier with Park City Ski & Snowboard. I train and compete on both the Park & Pipe and the Big Mountain Teams. I've loved jumping, spinning and flipping in the air for as long as I can remember! Before I started skiing I would find every ledge I could, to jump off of. I would spin off of every city street bench and set of stairs I came across. I feel like I was just born to be in the air!
When I was 6 my family moved back to Park City after living in England for 3 years. I had started skiing when I was 18 months old but hadn't skied the whole time we lived in Europe. My first season back on snow I found little jumps and taught myself how to do a 180! My parents saw how much I loved jumping and spinning on skis and decided to sign me up for Fly Freestyle at the UOP. I started learning about Slopestyle and Moguls when I was in second grade. Slopestyle became my favorite!
I started competing with Fly Freestyle in the Devo competitions and realized how much I loved to compete. It all just felt so natural! I have continued competing in USASA, USSA and IFSA events for the last 5 years in Slopestyle, Moguls, Aerials, Big Air, Halfpipe and Big Mountain. I also started rollerblading last year with my coach Jason Stinsman and that has felt just like skiing but on concrete. I love it!
I never met Sam but I've heard so many great things about him and I think of him as someone that I want to be like as I get older. He seemed like such a great, loving person who respected everyone. I try to be nice to everyone I meet, no matter who they are. I think everybody has good inside them and I want to try to help every person bring that out in themselves. At school my teachers often pair me with new students or students who are having trouble with their work. I try to help everyone get better at whatever they are trying to do. For example, when I am water ramping at the UOP there is almost always a group of younger kids training when I am there. If those younger kids are either afraid of something new or having trouble learning a new trick, I try to do my best to help them succeed. I love seeing people succeed because they are always so happy. Seeing other people happy makes me happy and makes everyone around them happy. I try to be a positive influence to everybody I meet but I prefer to do that quietly. I am not a very public, outspoken person but I do care about what is happening with other people and if they are struggling or sad I always try to help and make them feel better.
I have also heard that Sam would do his best to try something new, even if it seemed impossible, and that he never gave up! Sam was an amazing athlete and had a lot of success at an early age and followed his dreams. I do my best to follow in his footsteps by not giving up, even when other people tell me I should. I just keep working and trying until I succeed. In freeskiing there are a lot of tricks that take perseverance and dedication. Without that you can't progress. I set realistic goals every season and once I accomplish them I set new goals and keep working to improve.
My big skiing goals are to compete in the Rev Tour, Dew Tour, X-Games and the Olympics in Slopestyle, Halfpipe and maybe Big Air some day. I am working hard to reach those goals by competing in USASA events where I shoot for the podium everytime and often succeed. When I don't get a podium I am usually still happy with my performance but looking for how to do better next time. Not winning is not the end of the world but it does drive me to do better. I also do my best to take advantage of my training sessions and go as often as I can. I know that training is more important than competing because it's where I learn how to be a better skier.
I know that Sam was really involved in his community and gave back a lot. The Live Like Sam website says that he "tried to rescue every stray dog". I love dogs! I have been volunteering at Nuzzles & Co. over the past school year. My favorite thing to do at the adoption center is to play with the puppies and take the older dogs for walks. I think that what Nuzzles & Co. is doing is amazing and I love helping them as much as I can.
These are the ways that I think I "Live Like Sam". Sam will always be remembered and looked up to in our community. I will always look up to Sam!
Essay #2: What does Woodward mean to me?
Woodward is a really great place for people who love action sports! I have been able to go to The Barn at Copper for the past 3 years during USASA Nationals. It is always one of the best things about going to Nationals and I wish I could spend more time there and go more often. I love being able to rollerblade off of the skate ramps into the foam pits. I get to try new things without high consequences. The trampolines are also really great because there are so many options for which ones to use and what kinds of tricks you can practice on the different types of tramps. Every time I have had the chance to go Woodward Copper, I haven't had enough time to actually progress any of my tricks. I have only had enough time to just begin to get comfortable with the features and then it's time to leave.
To me, Woodward represents a place that you get to go and expand your skill set while also having a ton of fun! Woodward West has so many different options in features and terrain. I can't imagine being able to find all of those training opportunities in one place anywhere else. Woodward is also a place to meet people from other parts of the U.S., and maybe the world, that I would never have a chance to meet otherwise. It is incredible place and a week long camp there would be an opportunity of a lifetime.
If I were given the opportunity to go to Woodward West this summer, I see myself progressing immensely in my rollerblading skills and tricks. I also see myself trying things I wouldn't otherwise be able to by just staying home and training at the local skate park. Rollerblading is great cross-training for freeskiing. It's harder to land tricks on rollerblades, so when you learn a new trick and then bring it to snow it is much easier. Rollerblading is also really helpful for working on rails. My rollerblading last summer really helped me with my skiing rails this winter. It was awesome to see how much blading contributes to skiing. I can see why Sam was such a great skier and rollerblader, they go really well together!
I have pretty big goals for competing next season. I hope to be invited back to USASA Nationals for Slopestyle and Halfpipe. I really hope to finish in the top 5 in my age group! I think my training this summer, with the extra, super fun opportunity of Woodward, will really help me reach my goals. I would also plan to bring back everything I learn and share it with my friends and teammates.
Thank you for considering me for the Live LIke Sam and Woodward West Merit Scholarship. I would be overjoyed and hugely honored to be chosen! Going to Woodward would make this the best summer of my life!
Thank you so much!
Sincerely,
Owen Hughes