The THRIVE program, launched by Live Like Sam and WeBeWell (formerly Well-being Elevated), is a preventative mental health initiative that empowers and strengthens youth well-being. Our dynamic organizations have partnered to help address the growing nationwide mental health crisis.
THRIVE delivers an evidence-based curriculum from the fields of positive and clinical psychology that promotes well-being, happiness, and resilience in students. The THRIVE program is developed and delivered by WeBeWell.
THRIVE Cohorts for Grades 9-12
Program Description & Curriculum:
Students meet with their cohort via Zoom once a week.
The program requires attendance every week, at the same time, on the same day, for six weeks.
Upon completing the program and its requirements, including attending 5 of the 6 sessions, the student participant will receive an $80 research stipend.
To read more about the program, click here.
Eligibility:
Students who will be in 9th grade or higher in August of 2022 and reside in Summit County and/or attend a school in Summit County.  No 2022 high school graduates. Must be at least 14 years old.
We will do our best to group students by 9th & 10th grade and 11th & 12th grade.
Cost:
The program has a value of $425 per student, but is currently free to participants,
thanks to generous grants and donations to the Live Like Sam Foundation.
Dates:
Week of July 3rd - Week of Aug 7th
Days & Times:
Participants will be placed into a cohort that meets at one of the days/times below.
Tuesdays, 5:30 pm - 6:30 pm
Wednesdays, 1:00 pm - 2:00 pm
Wednesdays, 2:00 pm - 3:00 pm
Wednesdays, 3:00 pm - 4:00 pm
Wednesdays, 5:00 pm - 6:00 pm
Wednesdays, 6:00 pm - 7:00 pm
Thursdays, 5:00 pm - 6:00 pm
Fridays, 10:00 am - 11:00 am
Registration:
Registration is now open.  Click here to register.
If you would like us to let you know when more information about our fall session becomes available, sign up to receive notifications.
THRIVE Summer Programming for Grades 5-8
THRIVE programming is available to students in grades 5-8 through summer camps offered by Basin Recreation and the Park City School District.  Please contact them for more information.
THRIVE Cohorts for Grades 5-8
In the Fall of 2022, we aim to expand our THRIVE Cohorts program to students in grades 5-8.  Click on Get Notifications below to be added to our mailing list about future programs.
Park City Youth's Mental, Emotional and Social Health Challenges
During the COVID -19 pandemic, weeks of isolation, increased tensions due to job insecurity, increased substance abuse, and other external stressors exacerbated youth anxiety and depression with little reprieve. Even before 2020, Utah had among the worst mental health in the nation based upon high prevalences of poor mental health and lower levels of access to care.
The survey of Park City area adults done by Utah State University in August 2021 gathered input on their observations and assessments of young people and how well our community is addressing their challenges.
Key Outcomes From the Survey:
Student Health & Risk Prevention Needs Assessment Survey 2019
68% of Park City High School students experienced moderate to high depressive symptoms.
In Utah, more than 400,000 youth have mental health needs.
44% of Park City High School students had moderate to high mental health treatment needs.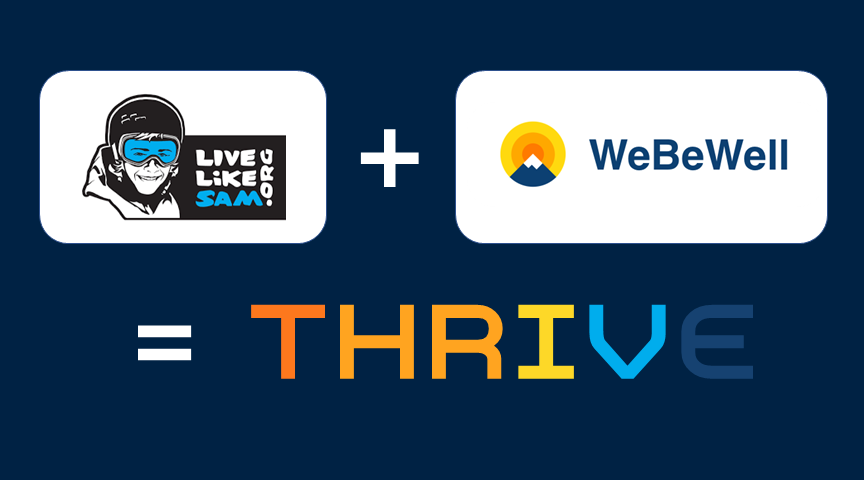 The THRIVE Program Teaches Youth:
We will engage at least 300 Park City area youth in the THRIVE pilot program in 2022. We will look to analyze the impact of the THRIVE program by applying research methodology that will evaluate various components of well-being and mental health, in the students we serve. We will also proactively examine other aspects of the program for continuous quality improvement of the THRIVE initiative.
Randomized control trials conducted on the WeBeWell curriculum, with previous university and adult participants exhibited the following outcomes: