The Thrive program, launched by Live Like Sam and Webewell, is a preventative mental health initiative that empowers and strengthens youth well-being. Our dynamic organizations have partnered to help address the growing nationwide mental health crisis.
Thrive delivers an evidence-based curriculum from the fields of positive and clinical psychology that promotes well-being, happiness, and resilience in students. The Thrive program is developed and delivered by Webewell.
Program Description
Students meet with their cohort via Zoom once a week. The program requires attendance every week, at the same time, on the same day, for six weeks.
Upon completing the program and its requirements, including attending 5 of the 6 sessions, the student participant will receive an $80 research stipend.
Reach out to programs@livelikesam.org with any questions.
Program Eligibility & Cost
Eligibility:
Students in 6th-12th grade.
Reside in and/or attend a school in Summit or Wasatch County.
Must be at least 11 years old.
Cost:
The program (valued at $425+/student) is currently free to participants, thanks to generous grants and donations to the Live Like Sam Foundation.
Student participants will receive an $80 research stipend upon completing the program requirements and attending 5 out of 6 sessions.
2023 Upcoming Thrive Sessions
FALL (OCT): Week of Oct 22nd - Dec 8th
REGISTER for Fall October Session
Cohort Meeting Times
Fall (October) Thrive Participants will select a cohort that meets weekly on one of the days/times below:
FALL (OCT) 6th-8th Grade Cohorts, Weekly Meetings:
Monday  7-8pm
Wednesday 430-530pm | 6-7pm
Thursday 6-7pm
Friday 1:30-2:30pm | 3-4pm | 4:30-5:30pm
FALL (OCT) 9th-12th Grade Cohorts, Weekly Meetings:
Monday 6-7pm
Wednesday 7-8pm
Thursday 7-8pm
In-person cohorts:
Basin Recreation's Summer Blast program

Summer school through the Park City School District.
Virtual cohorts:
SPRING/SUMMER: Week of May 14 – Week of June 18
SUMMER: Week of June 25 - Week of July 30
Reach out to programs@livelikesam.org to request information about summer opportunities.
Summer Cohorts are in session!
Fall Session Registration is NOW OPEN!
Spots fill quickly, be the first to find out about our future Thrive sessions by joining our Thrive mailing list.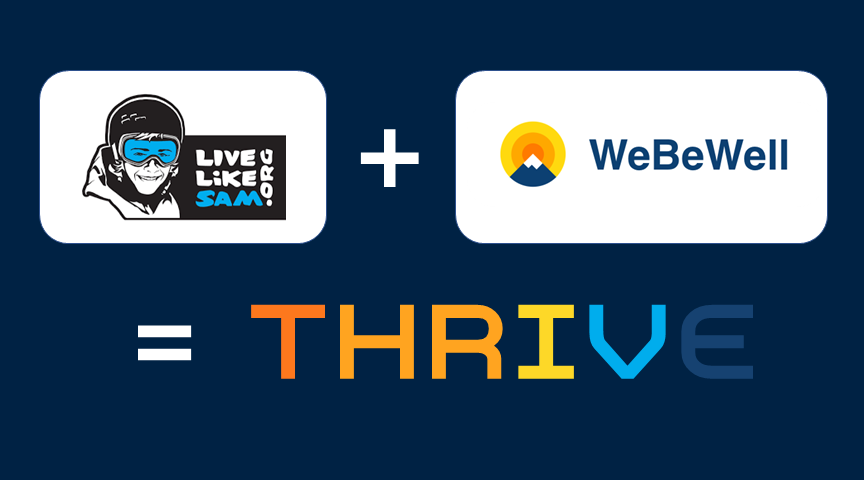 The THRIVE Program Teaches Our Youth
We will engage at least 500 Summit and Wasatch County youth in 2023. We will look to analyze the impact of the Thrive program by applying research methodology that will evaluate various components of well-being and mental health, in the students we serve. We will also proactively examine other aspects of the program for continuous quality improvement of the Thrive initiative.
Randomized control trials conducted on the Webewell curriculum, with previous university and adult participants, exhibited the following positive outcomes:
Park City Youth's Mental, Emotional & Social Health Challenges
During the COVID -19 pandemic, weeks of isolation, increased tensions due to job insecurity, increased substance abuse, and other external stressors exacerbated youth anxiety and depression with little reprieve. Even before 2020, Utah had among the worst mental health in the nation based upon high prevalences of poor mental health and lower levels of access to care.
The survey of Park City area adults done by Utah State University in August 2021 gathered input on their observations and assessments of young people and how well our community is addressing their challenges.
Key Outcomes From the Survey
Local Youth's Mental, Emotional & Social Health Statistics
70% of Park City High School students experienced moderate to high depressive symptoms.
In Utah, more than 400,000 youth have mental health needs.
47% of Park City High School students had moderate to high mental health treatment needs.
Stay up to date on upcoming opportunities, newsletters, scholarships and events.
Get timely news straight to your inbox.
The gold handprint is Sam's. It represents Sam holding up his community, his lasting legacy and his continued inspiration to many.