Thank You for Your Support
Friday - November 5th, 2021
Our local day of giving and celebration, Live PC Give PC's 24-hours of online community giving is the perfect way to recognize and support the incredible nonprofits that help shape Park City into the amazing town it is!
Sam Jackenthal was a U.S. Junior National Champion, an internationally ranked freestyle skier, and a world champion inline rollerblader. More importantly, he was a generous, fun-loving individual with a great sense of community, purpose, character, and self-identity. While our Park City community lost Sam at age 16 to a training accident in Australia in 2015, his legacy of inclusivity, humility, gratitude, and positivity still thrives long after his passing.
Thank you for your support raising $54,760 in 2020; this year with the release of our new two-pronged approach to programming outlined below, we aim to raise $75K from 300 unique donors.

Our 2021 Live PC Give PC Goals
$75,000
+
300 unique donors
Last year we raised $54,760 from 220 unique donors.
This year? We're aiming high and dreaming BIG! Will you help us reach our goals?
Impacting the Future of Our Youth
The Live Like Sam Foundation has a two-pronged service delivery model designed to:
Encourage youth to learn to Live Like Sam by offering THRIVE - our evidence-based curriculum - paired with life-coaching and peer mentorship to teach resiliency, self-identity, gratitude, self-compassion, and other social-emotional skills.
Reward and recognize youth who Live Like Sam through three distinct scholarship and award programs:
Pursue Your Passion Scholarships – Providing opportunities for youth to explore and grow their passions, whether they be academic, sport, hobby, or other interest
Give Like Sam Grants - To provide resources for community-minded individuals (and groups) to plan and carry out meaningful service projects/activities to benefit the Summit County communities.
Live Like Sam Awards - To recognize exceptional youth for demonstrating the "Sam Essentials" of, Self-Awareness, Courage, Kindness, Joy, and Leadership.
A significant portion of our programming and scholarships are allocated for low-income/high-need local families.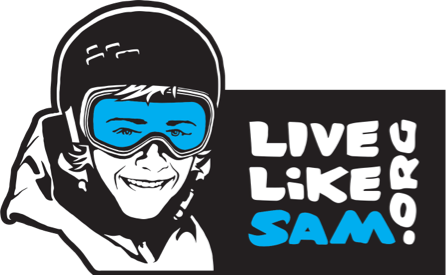 THRIVE Program
Youth Inspiring Scholarships
Community Development

Take 20% off items from The Sam Shop!
Pick up some awesome Live Like Sam swag and show off your support this Live PC Give PC!
Use promo code LivePC2021 at checkout!
All of this wouldn't be possible without our amazing partners. We'd like to thank each and every one of them for supporting Live Like Sam and making a significant difference in the lives of our youth. Thank you!
Stay up to date on upcoming opportunities, including programming and scholarships!
Get timely news straight to your inbox.
The gold handprint is Sam's. It represents Sam holding up his community, his lasting legacy and his continued inspiration to many.