One theme that resonates throughout the positivity journal is how Sam's spirit is still able to spread joy and positivity. He had an exceptional enthusiasm for life that was infectious, and still inspires many today. This energy is exactly what Live Like Sam strives to impart on others by sharing Sam's story, providing young athletes with exciting opportunities, and teaching them how to cultivate their own positivity by being an example of exceptional character themselves.
Live Like Sam's guiding principles don't just exist to help children develop into better athletes or students. They're there to help kids transform into better people, acting as a source of positivity and joy just as Sam was — and still is — to so many people. By adopting these principles into your life at a young age, you can leave behind your own legacy of light and be the change you want to see in the world.
The Candle & The Mirror
Edith Wharton once said, "There are two ways of spreading the light: To be the candle or the mirror that reflects it." Just like sports, positivity takes practice in order for it to be genuine. One cannot simply reflect the joy they see in others. They need to work hard to change their mindset in order to ignite the flame of positivity within themselves and spread it to those around them. Practicing positivity means working on your mental and emotional health as much as your physical health. Try making the following changes to your everyday routine in order to "exercise" your positivity: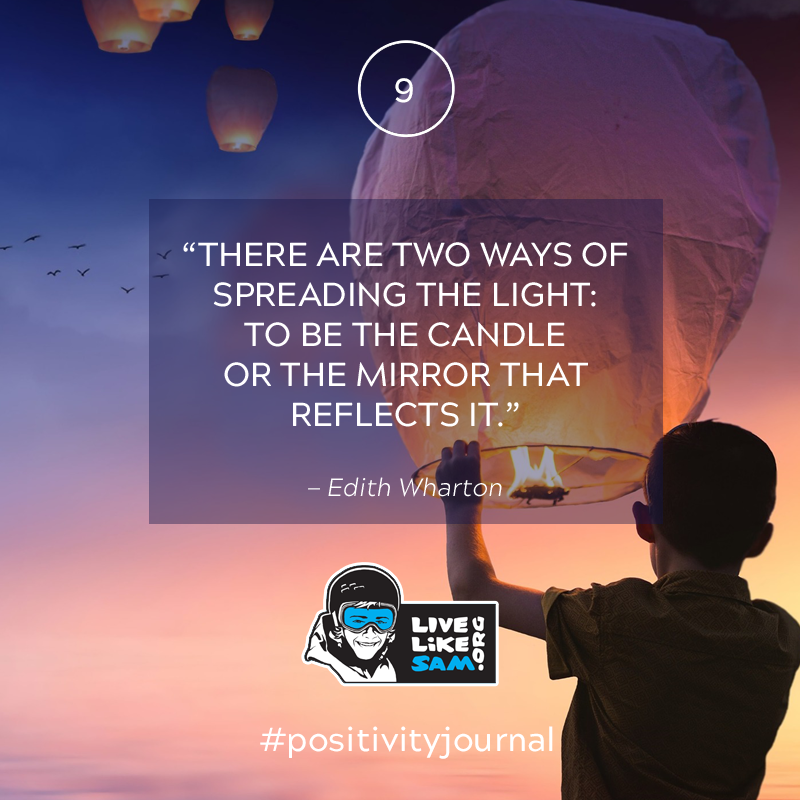 Stress Management: Meditation, affirmations, yoga — there are tons of ways to manage the stress in your life in order to access a more peaceful and positive mindset.
Self-Expression: Everyone needs to express their emotions in a healthy way. Whether it's playing your favorite sport, singing, painting, writing, or something completely different, find a way to express yourself that make processing your emotions fun and healthy!
Mindfulness: Take time to think about your emotions and actions before reacting to a situation. This helps provide perspective on the circumstances at hand and allows you to look at it differently for a more positive outcome.
These are just some of the ways in which you can create more positivity in your life. Find the routine that works best for you and work out your "positivity muscles" as often as you can.
Light Up Your World
It's easy to let ourselves slip into negative patterns and ways of thinking. Sam was one of the most positive people we knew, but even he had his days where it was harder to find the glass half full. Because he worked hard at not only developing his athletic ability but his mental and emotional health as well, Sam was able to leave behind a legacy of light that still inspires many today.
In life, you can be one of two people: The candle or the mirror. A mirror will go through life merely mimicking positivity. A candle will be a source of light and warmth that helps ignite joy in others. It's not easy being the candle, but the impact you leave will be worth the time you spent cultivating your positivity. The choice is yours: Which will you be?
Get positivity journal updates, Live Like Sam scholarship information, and program announcements sent directly to your inbox by signing up for our newsletter!