When you flip through the positivity journal located on Rob's Trail at Sam's memorial bench, you'll immediately notice one common theme: gratitude. Nearly everyone who makes an entry in the Live Like Sam journal expresses thanks and gratitude for having shared Sam's story. Whether it's for giving them peace in their own lives, changing their perspective about what matters most, or giving them the motivation to take in the beautiful mountain vistas, those who take the time to listen to Sam's story walk away feeling grateful for the experience.
Perspective & Thankfulness
This particular entry discusses how reading Sam's story changed her perspective on life, with her final words being, "Life is short!" This is one of the most important aspects of the Live Like Sam message. When we take time to look at life from a different point of view, we express gratitude for the things we have and the people who surround us more than we would if we stayed in our own patterns of thinking.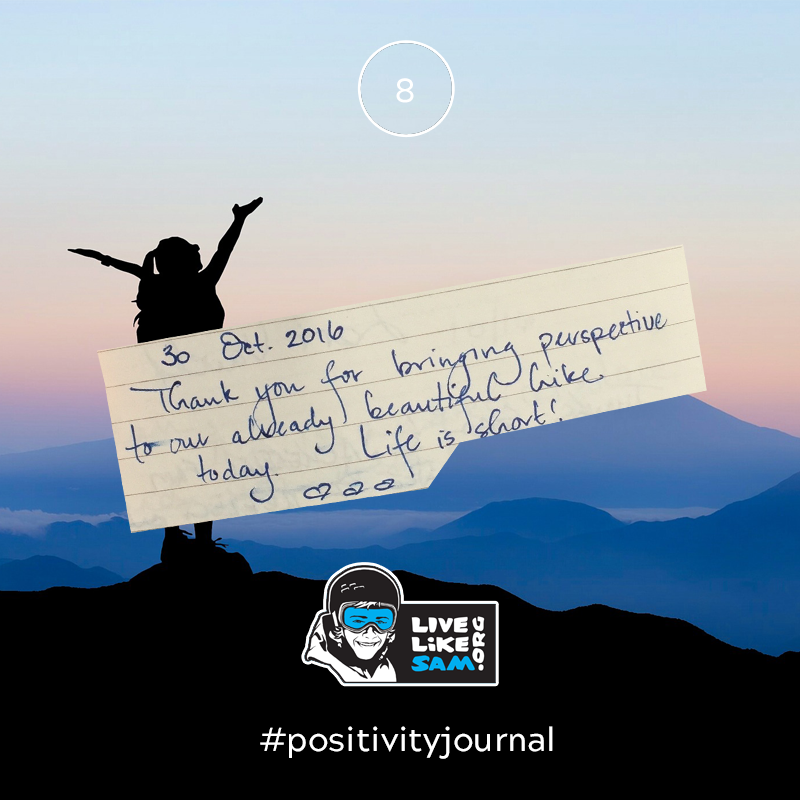 Expressing gratitude is one of the best things we can do for ourselves. It's not an easy feat to accomplish, but by taking the time to be grateful for the things we have and express thanks for what we've been given, we become more content with our lives and enjoy the people and things that surround us more.
Sam always took the time to express gratitude for the opportunities he was given. He understood that it wasn't simply his athletic ability that led him to achieve all that he did in just 16 years. It was a multitude of combined factors that granted him the opportunity to compete against some of the world's most capable athletes and lead a life of excitement and achievement from such a young age. This quality is what made him so special, and what has been passed on to others in the retelling of his story.
Gratitude for Greatness
Melody Beattie once said, "Gratitude makes sense of our past, brings peace for today, and creates a vision for tomorrow." Expressing gratitude allows us to look at things differently, giving us a unique perspective about the events that have led us to where we are now and allowing us to create a better tomorrow for ourselves. Gratitude is one of the guiding principles of Live Like Sam, and we honor young athletes everywhere who exhibit the same level of gratitude and awareness that Sam did.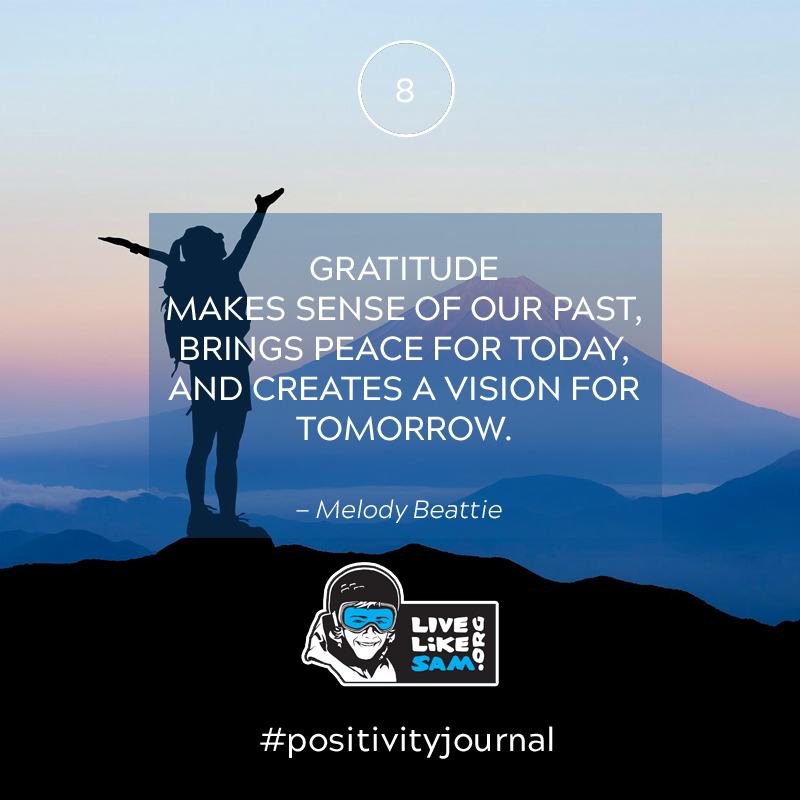 To further promote this quality in young athletes, Live Like Sam and the Youth Sports Alliance in Park City are offering a Gratitude Grant Scholarship to those who express gratitude in their daily lives. One lucky athlete will receive a $500 grant and five others will receive a $250 grant for their excellent character. Submit your application for the Gratitude Grant online today.
For more information about Live Like Sam scholarship opportunities, positivity journal updates, and organization news, sign up for our newsletter!