If you've been on Main Street, Park City, over the past couple of months you might have noticed some new neighbors have moved in up and down the street. While Live Like Sam is welcoming to everyone in our community, we were super excited for one in particular…
Outdoor equipment behemoth Black Diamond is now on Main!
Birthed in a Yosemite Valley backyard from a passion for climbing and skiing, Millcreek-based Black Diamond is now a global company with offices on three continents. And while the company's growth has proven to be limitless, it still finds its roots in local climbing and skiing communities around the world. 
It's no surprise, then, that our newest neighbors immediately wanted to partner with Live Like Sam – and we couldn't be more excited!
The Start of a Beautiful Friendship
To say that Black Diamond has gone above and beyond would be an understatement. Not only did Live Like Sam receive donations from the store's opening celebration as one of Black Diamond's local nonprofit partners, but they also dedicated a portion of the store to promote Live Like Sam and our mission!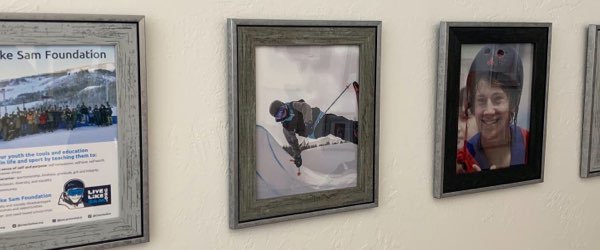 As such a community-focused company, our partnership was a natural fit from the start. Black Diamond is globally recognized for its conservation efforts and preservation ethics – especially in Utah.
"Utah is our backyard," Devin Battersby, the director of retail for Black Diamond told The Park Record. "It's who we are."
We look forward to working with Black Diamond in our mission to support youth from diverse backgrounds to develop a healthy sense of self-identity, character, purpose and connection to community by fostering positive well-being through educational programming and mental fitness initiatives.
A true leader in advocacy and action to save the places in which we recreate and hold so dear, Black Diamond is committed to continuing their efforts in the Park City community. Trail cleanups, workshops, classes… Black Diamond wants to educate and innovate – and involve Park City's youth in the process.
Black Diamond Celebrates Live Like Sam Day
They might be new in town, but Black Diamond is diving right in to Live Like Sam Day! Stop by the Park City store at 592 Main on Saturday, October 10th to check out the goods, hang with our new friends and donate to Live Like Sam! Not in Park City on Live Like Sam Day? Black Diamond will be celebrating at both of the Salt Lake City stores (flagship Millcreek and Trolley Square) and at the outlet store in Lehi.
What's more, Black Diamond is also one of our Elite Sponsors at our private Live Like Sam Day Celebration and Fundraising Event at Utah Olympic Park! They generously donated an incredible online auction item, which we dubbed "The Ultimate Backcountry Survival Package." Check it out (there are links to the gear on the page)!
We can't say thank you enough to our new partners! And we can't wait to see what we do together next!