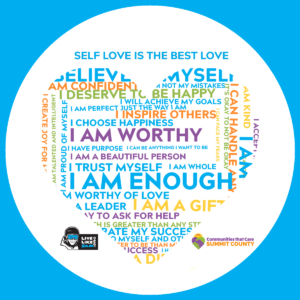 Caring for oneself and for others is at the heart of everything Live Like Sam Foundation does. That's why we're so excited to announce our new self-love campaign in partnership with Communities That Care Summit County. Both of our organizations are deeply connected to the idea that caring for ourselves and others starts with self-love. Especially in times of hardship, it's important to take time to remember what's most important and give ourselves the positivity boost we need to show up for life the best way we can.
To help Summit County school district children kick off the holiday season on a positive note, Live Like Sam and Communities That Care will be handing out self-love stickers to students prior to the winter break. Each sticker contains a set of positive self-affirmations that are meant to inspire appreciation for oneself and help students develop a greater sense of self-identity, character, purpose, and connection to their community.
"We hope that this small gift to our youth community will help them reconnect to what's important and have a happier holiday season despite the current COVID climate," said Ron Jackenthal, founder of Live Like Sam Foundation. "Partnering with Communities That Care on this initiative was incredibly important to us, and it's been a great experience working together to make the world a more positive place for Summit County students."
Stickers will be handed out to students by Summit County school district teachers prior to winter break. To learn more about Live Like Sam Foundation or Communities That Care Summit County, visit the Live Like Sam or Communities That Care website.