One of the things Sam was best known for was his passion for living life to the fullest and seizing every opportunity for adventure. While this zest for life and drive to do more is something most struggle with, it was a natural part of what made Sam's personality so inspiring.
Taking chances and going on adventures is easier said than done. But making an effort to push the limits and challenge ourselves to do something greater comes with more benefits than varied life experience: There are lots of scientific and health benefits to living a life like Sam's!
A Daring Adventure
Helen Keller once said, "Life is either a daring adventure or nothing at all." To some this may seem like a bold statement, but these words hold a lot of truth. A "daring adventure" doesn't always mean climbing a mountain or skydiving. Rather, the true "adventure" comes from seizing the opportunity to do things outside of our comfort zone and experience new things.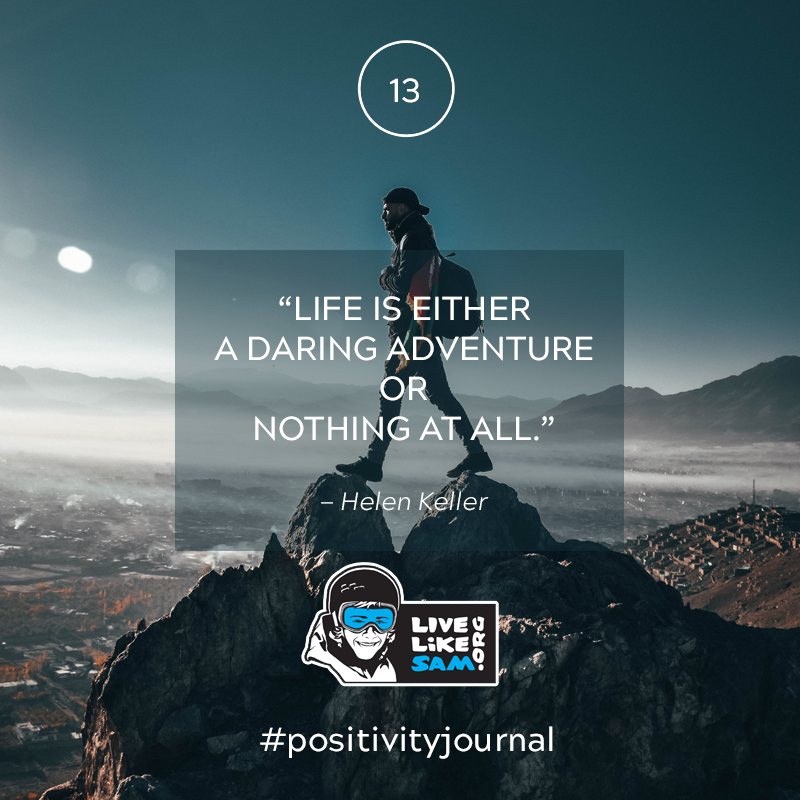 There are lots of scientific benefits to leading an adventurous lifestyle. Here are just a few of the key benefits you'll get from incorporating more adventure into your life:
Fitness: It's likely that the adventure you choose will place you in a situation that will be physically challenging. This is an excellent way to stay fit and increase your endurance and strength in unexpected scenarios.
Intelligence: A recent study found that regularly participating in physically adventurous activities supports increased intelligence and retention — especially in older individuals.
Confidence: When we push ourselves to do things we wouldn't normally do, completing those challenges gives us a huge confidence boost, allowing us to approach future situations with a better attitude than we would have without that experience.
Happiness: According to recent studies conducted at Winston-Salem State University and the University of North Carolina Chapel Hill, adventure-seekers who engage in a wide variety of experiences are more likely to have positive emotions. Adventurers are also better able to fend off feelings of anxiety and depression as a result of their activities.
Longevity: Researchers at the University of Massachusetts have found that people who regularly seek out adventurous activities and spend time outdoors can actually extend their lifespan. In fact, they found that doing so significantly decreased the risk of heart disease and untimely death in at-risk middle-aged men.
Not all adventures are designed the same, so in order to reap all of the benefits discussed above, be sure yours incorporates elements of physical activity. Additionally, adventures that involve cultural differences and interactions with others will be more rewarding than those that do not possess these characteristics.
Life Well Lived
To truly live a life like Sam's, we must actively seek out opportunities to experience new things and take adventures. Without these vital life experiences, we cannot grow mentally, physically, or emotionally as people. By challenging ourselves to experience new things, we can lead healthier, happier, more rewarding lives and influence others to do the same.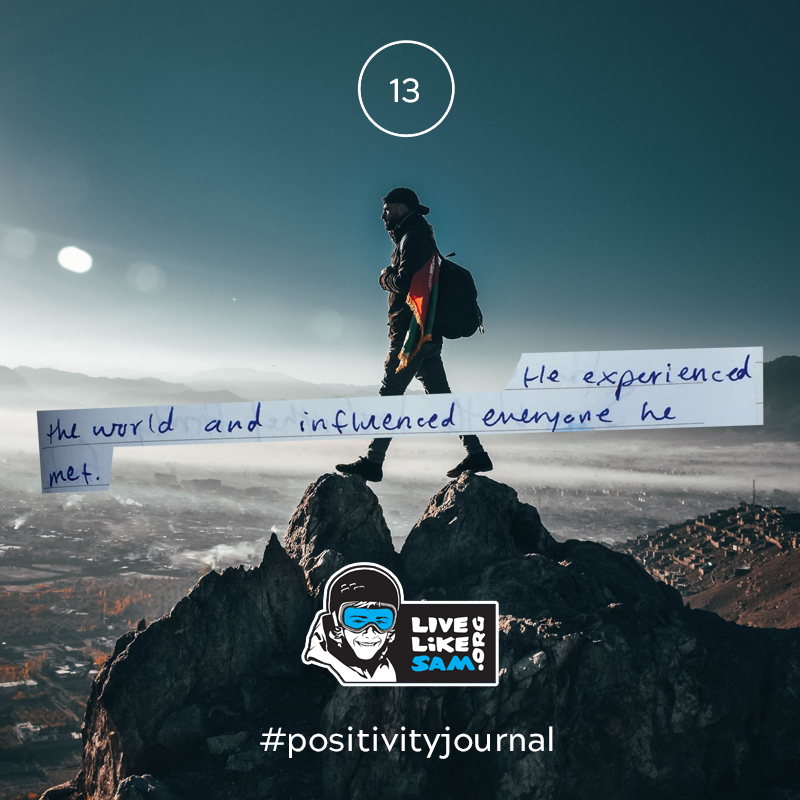 Get the positivity journal delivered directly to your inbox by signing up for the Live Like Sam newsletter today!