Looking through the Live Like Sam positivity journal, we came across a poem that perfectly described Sam's joy for life and adventurous spirit. The author wrote the following:
[Your] courage to ride
Your freedom to fly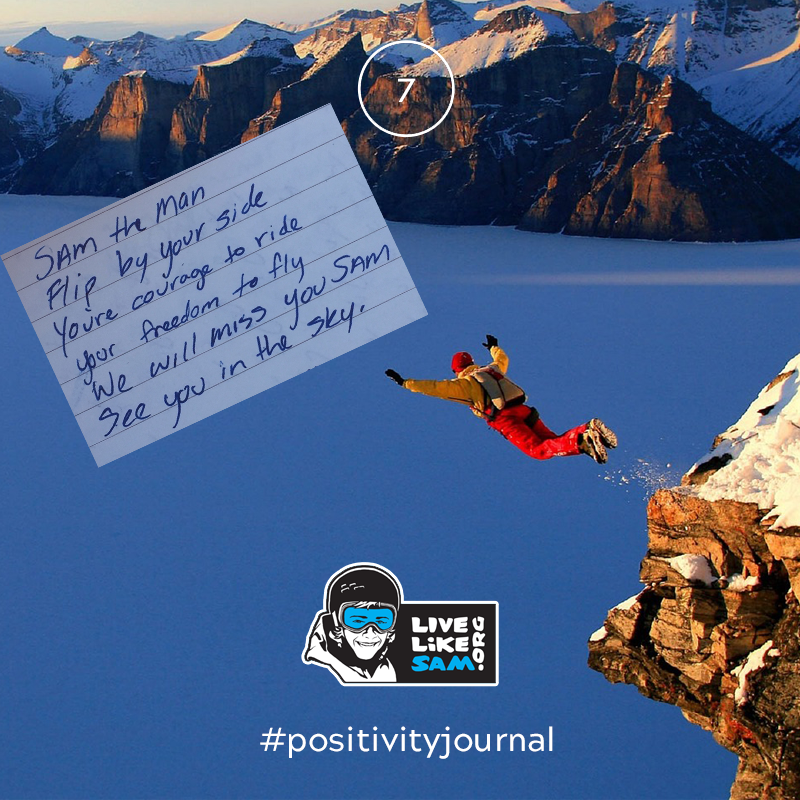 Sam certainly had an abundance of courage and freedom. From a very young age, he possessed the bravery and belief in himself that many take a lifetime to find — if ever. But accessing this courage is easier than you think. All it takes is time and patience to make positive changes to your mindset and unlock your true potential.
Courage to Ride
William Faulkner once said, "You cannot swim for new horizons until you have courage to lose sight of the shore." One of the things that prevents people from pursuing their dreams and finding their happiness is fear of the unknown. Overcoming this fear is the key to experiencing new things, taking a chance on yourself, and ultimately finding your true happiness.
Finding the courage to pursue what makes you happiest takes time, patience, and a commitment to changing your mindset. Try implementing these simple adjustments to your daily routine to help achieve the positive change you seek:
Meditation: You don't have to be a Shaolin monk to reap the benefits of a meditation session. Setting aside the time for yourself to decompress and concentrate on nothing in particular has significant health benefits, including reduced stress, decreased anxiety, and better emotional well-being. You can read up on more benefits of meditation in The Ultimate Guide to Taoist Meditation available online by Rafaelia Cleary.
Affirmation: We all need a reminder that we are worth the effort sometimes. Incorporate daily affirmations into your routine to remind yourself of why you started this journey. Leave notes to yourself, seek out inspirational pages on Instagram, or find guided meditations that have affirmations built into the practice.
Goal Setting: Setting reasonable goals for yourself is important. It helps you stay on track and gives you a way to measure your success. Make sure these goals are realistic and attainable, and don't get discouraged if you can't accomplish them within the desired time frame!
There are many other ways that you can make minor adjustments to your life in order to change your mindset. Find the methods that work best for you, and soon you'll be on your way to having the courage to ride — just like Sam.
Freedom to Fly
When you have the courage to believe in yourself and pursue your happiness, the "freedom to fly" comes naturally. According to Thucydides, "The secret to happiness is freedom … and the secret to freedom is courage." Sam's courage to pursue what made him happiest is what enabled him to be free to fly to new heights. By doing things that take us outside our comfort zone, we're better able to live a life like Sam's — one of courage, freedom, and happiness.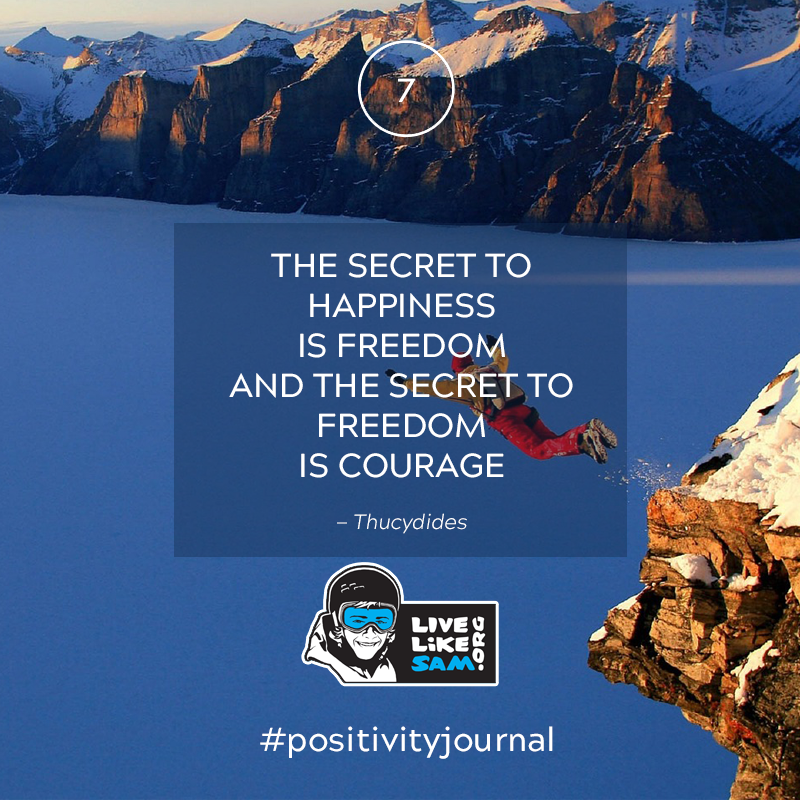 Do you have the courage to ride, the freedom to fly?
Get positivity journal updates, scholarship opportunities, and Live Like Sam news delivered to your inbox by signing up for our newsletter.