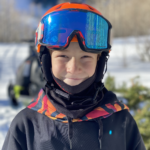 Putting others before ourselves is a difficult task for most adults, but 10-year-old Parkite, Lars Minneci, makes it sound as easy as A-B-C. Inspired both by the Live Like Sam Foundation and his natural tendency towards compassion, Lars is already making a huge difference in the lives of his friends and teammates simply by putting kindness and inclusion first.
Lars' Lessons in Generosity
An avid skier, Lars has already started entering regional competitions, including at the 2020 USASA Big Mountain West Series. But perhaps what this young skier loves more than competing for the podium is spending time on the slopes with his friends. Lars will do just about anything to keep his friends in good spirits while at the park — even going so far as giving away pairs of his own skis.
"My friend had some skis and we were at the park one day and he kept complaining about how much he hated them," Lars explains. "So afterwards, I went home and found an old pair of skis that were much better and gave them to him so he could have more fun."
Whether he's donating old skis to a friend or passing out stickers to his teammates, Lars always makes generosity and kindness towards others a top priority. One of the things he is most passionate about is inspiring others to take chances and try new things.
"I have a friend named Elliott who's a little younger than me, and I'm always cheering him on," says Lars. "When we were at our cabin, we were doing a jump off the road and he was a little nervous, but I was like, 'Yeah! Do it!' And he did and it was awesome!"
How Lars Continues to C.A.R.E.
While Lars' generosity and kindness come naturally to him, he recognizes those who have inspired him to lean into these traits, including freeskier Walker Woodring.
"I got to meet him at Woodward," Lars remembers. "It was cool because I really look up to him and he was so nice."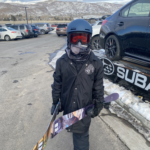 That interaction is probably what contributes to Lars' overarching goal of inspiring other kids to be their best and try new things. As he continues to pursue his athletic interests, he does so with the intention of keeping character, responsibility, and education as his top priorities — an admirable characteristic that takes most people a lifetime to develop.
In Loving Memory of Chris Minneci
When pressed further about his role models, Lars opened up about his father, Chris Minneci, who passed away in 2012.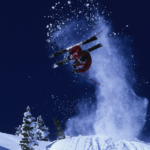 "Chris was an amazing skier," says Lars' mom, Sue Minneci. "Lars skis just like him."
While it can be difficult to speak and think about those who are no longer with us, Lars knows how important it is to remember, which is why he wanted to dedicate this blog to his father. In this writer's opinion, however, the true dedication to Chris' memory is Lars' commitment at such a young age to always put kindness, inclusion, and positivity first.