Live Like Sam Foundation is proud to announce the winners of our first-ever Give Like Sam Grant! Eight Summit County student groups hoping to help make Park City a better place in unique and inspiring ways were granted funding from our organization to support their community service projects. We are so excited to see how these young Parkites use this funding to create a healthier, happier community — just like Sam always strove to do.
What is the Give Like Sam Grant?
In November 2021, Live Like Sam Foundation began accepting applications for the inaugural Give Like Sam Grant scholarship program. Through this initiative, Summit County students in grades 6 – 12 were welcome to apply for up to $750 in funding to support a community service project of their own creation. Students submitted grant proposals to our organization detailing their plans for how they wished to use the funds to better their communities.
"It was inspiring to see how many young people truly care about their communities," said our co-founder and creator of the Give Like Sam Grant initiative, Skylar Jackenthal. "These students have incredibly generous, brilliant ideas, and we're excited to play a role in helping those seeds of selflessness grow and thrive."
Winners were notified on January 21, 2022, and all community service projects that received funding must be completed by May 31, 2022.
8 Teams of Young Parkites Helping to Make Our Mountain Town a Better Place
Out of all the applicants we received, Live Like Sam Foundation is proud to announce the following eight Summit County student groups as the winners of the Give Like Sam Grant: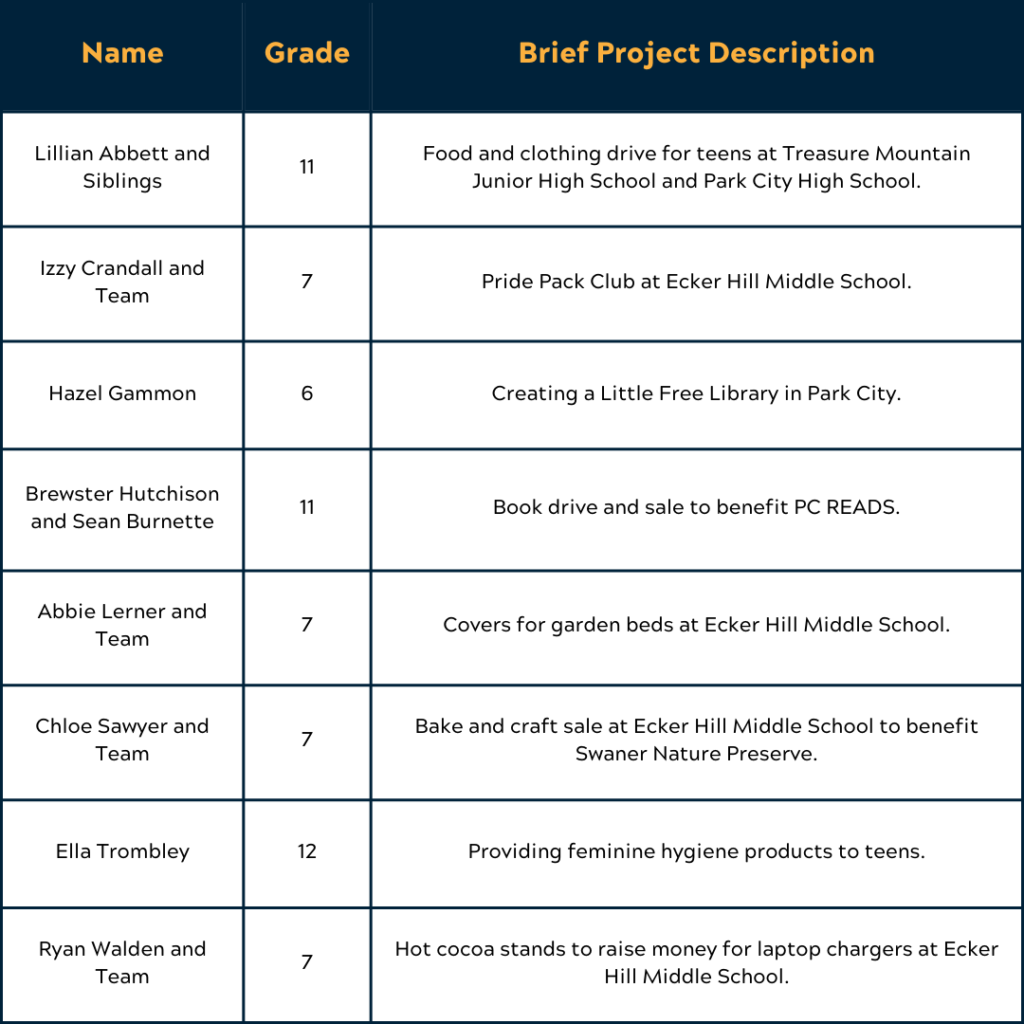 Congratulations once again to all of the winners! We look forward to seeing your projects come to fruition over the coming weeks and months.
Help More Students Give Like Sam!
The Give Like Sam Grant is just one of the ways in which Live Like Sam Foundation helps strengthen self-awareness, kindness, courage, leadership, and joy within our youth community. But none of this would be possible without the love and generosity of our incredible supporters. If you want to see more students like these get the chance they need to make a positive difference, consider pledging your support to Live Like Sam Foundation today! Sign up for our newsletter or make an online donation to help support our scholarship programming.