At this year's King of the Wasatch competition, the biggest winner stood atop a different kind of podium – one built on sportsmanship.
By the look on his face on Saturday, you would have never known Henry Townshend had just barely missed the official podium at the United States of America Snowboard and Freeski Association's Big Mountain West Series' culminating event. Finishing fourth in the competition's freeski Breaker Boys division, Henry was nevertheless stoked to receive a different kind of accolade. 
The Sam Jackenthal Award
Many people in the Park City and international freeskiing communities knew and loved Sam Jackenthal during the short time he graced this world with his humor, positivity and passion for skiing. Gone incredibly too soon, Sam and his undying spirit of compassion and sportsmanship now lives on through Live Like Sam.
Founded to support young athletes and foster the core principals of Community, Athletics, Responsibility and Education (CARE) in sport, Live Like Sam and the Sam Jackenthal Fund have provided scholarships to over 100 young athletes and given out 100-plus awards to competitors who exemplify the characteristics of CARE and "live like Sam."
Since 2016, Live Like Sam and the USASA have presented the Sam Jackenthal Award to the competitor who best embodied the positive characteristics of CARE throughout the four-day competition.
"This is a huge deal," explained Assistant Series Director Max Raymer. "The biggest thing about this award is it's about the passion, the vibe that Sam brought. He (emanated) a passion that no one else could match."
As for the 2019 King of the Wasatch Sam Jackenthal Award winner, 13-year-old Henry Townshend might be shy, but he clearly shares Sam's passion for skiing.
When Sam's father, Ron Jackenthal, presented a beaming Henry with the award, he explained to the crowd that Henry displayed "leadership, sportsmanship, respect to the other athletes and really embodied Sam's spirt of positive competitiveness."
"With Henry, he's so caring, so excited about wanting to get better and better," Kim Raymer, USASA board member and series director explained after the event. "He is the perfect example of how Sam has become a hero for so many kids. Just his love of life and love of community. There was no doubt among the USASA officials – it's Henry. Henry was Sam this year."
An Unconventional USASA Winner
Henry wasn't the only one to win big at the King of the Wasatch – the USASA generously awarded the Sam Jackenthal Fund with a $500 check to help support the mission of Live Like Sam.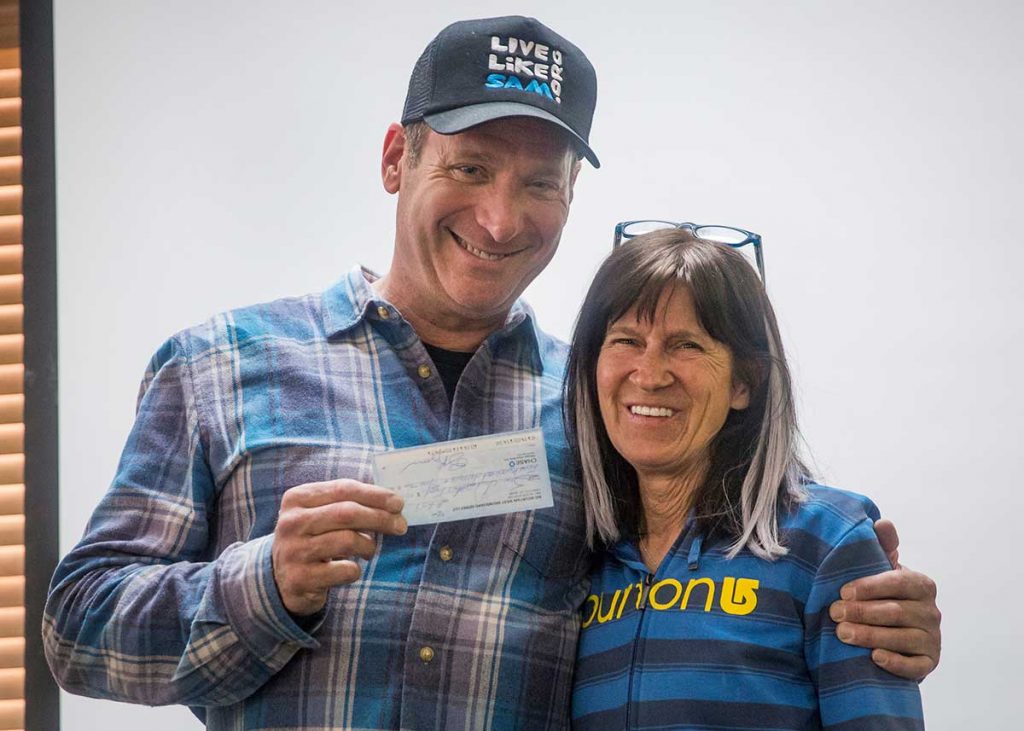 Kim knew Sam well from his competition days, "Many of my favorite memories at USASA was to sit with Sam at registration and talk about the day that was ahead of all of us," she reminisced. "It meant so much to us to be with him."
This sort of connection between Sam and the people he encountered was not unusual. His uniquely-positive outlook on life and sport was contagious, and he has left behind a legacy of spirit other young athletes can emulate.
"He was one of the most persevering humans I've known," explained Park City Ski and Snowboard's Freeski Program Director Chris "Hatch" Haslock. "He would never give up on anything. He would have bad days too, just like a lot of people have bad days. He would just get back up and he would say, 'OK I'm going to do it again. I'm going to try it again.'"
That same perseverance drives the Live Like Sam today. In partnering with fantastic organizations like the USASA, Live Like Sam continues to lift up young athletes and strives to help us all live a little more like its namesake. 
Quotes courtesy of The Park Record.