We recently came across this entry in Sam's positivity journal, located at his memorial bench on Rob's Trail: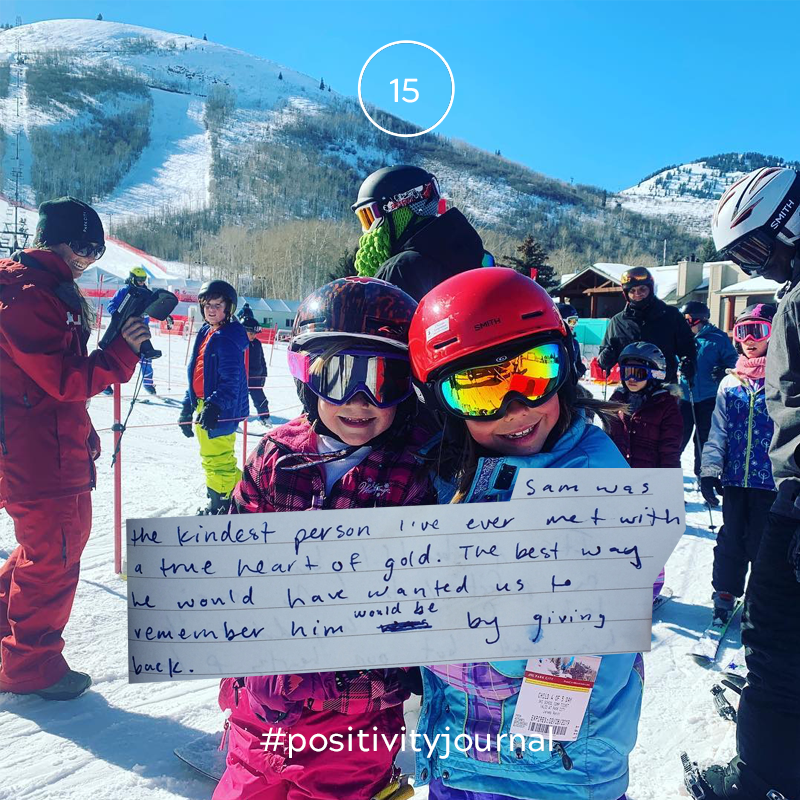 Sam was the kindest person I've ever met with a true heart of gold. The best way he would have wanted us to remember him would be by giving back.
There's a reason why "community" comes first in the Live Like Sam guiding principles: Sam's love for his friends, family, and community was made clear in everything he did. While we can all agree giving back important, we may not realize the larger disservice we do to ourselves when we fail to regularly offer support to our respective communities. Beyond helping others, there are plenty of additional benefits that come with being charitable and supportive.
Health Benefits of Giving Back
Think about the last time you gave back to your community. How did you feel afterwards? If your answer was "good" or "happy," you're not alone. But there's more at work to those momentary feelings of elation than a boost to your current mood. According to professor of preventative medicine, Stephen Post, giving to others has been shown to increase health benefits in people with chronic illnesses, such as MS and HIV.
Additionally, volunteering has been shown to bring the following benefits to one's mental and physical health:
Combats anxiety, stress, depression, and anger
Increases self-confidence
Promotes positive social connection and interpersonal skills
Creates a greater sense of purpose
In a 1999 study conducted by Doug Oman from the University of California, Berkeley, the professor found that elderly individuals who volunteered for two or more organizations had a 63% lower mortality rate than their non-volunteering counterparts. Similarly, a 2006 study by Rachel Piferi of Johns Hopkins University and Kathleen Lawler of the University of Tennessee revealed that people who provide social support within their communities had consistently lower blood pressure than those who did not. The study also found a correlation between social giving and experiencing greater self-efficacy, improved self-esteem, less depression, and reduced stress.
Volunteering & Your Career
Aside from health benefits, giving back is a great way for those interested in pursuing a career in sports to get started. Those working within the sporting industry need to have strong interpersonal and communication skills in order to be successful. Additionally, volunteering within your specific sporting community is a great way to demonstrate your dedication to the game beyond adding to your winning legacy.
Volunteering with your sports community also allows you to:
Stay up-to-date on current trends within your preferred sport
Stay active and increase physical and mental health
Develop important skills needed within your industry
Add relevant skill sets to your resume for a higher chance at landing a job interview
As you can see, being a steward for your community is incredibly beneficial. From health benefits to advantages during your future job hunt, being an active member of your community can make you a healthier, more positive person.
Sam's Way of Life
One of Sam's greatest joys in life was giving back to his friends, family, and community members. From an early age, he understood that in order to move forward in life, we need to give back to those who have helped us get to where we are. Consider the following quote from Heywood Broun:
Sports do not build character. They reveal it.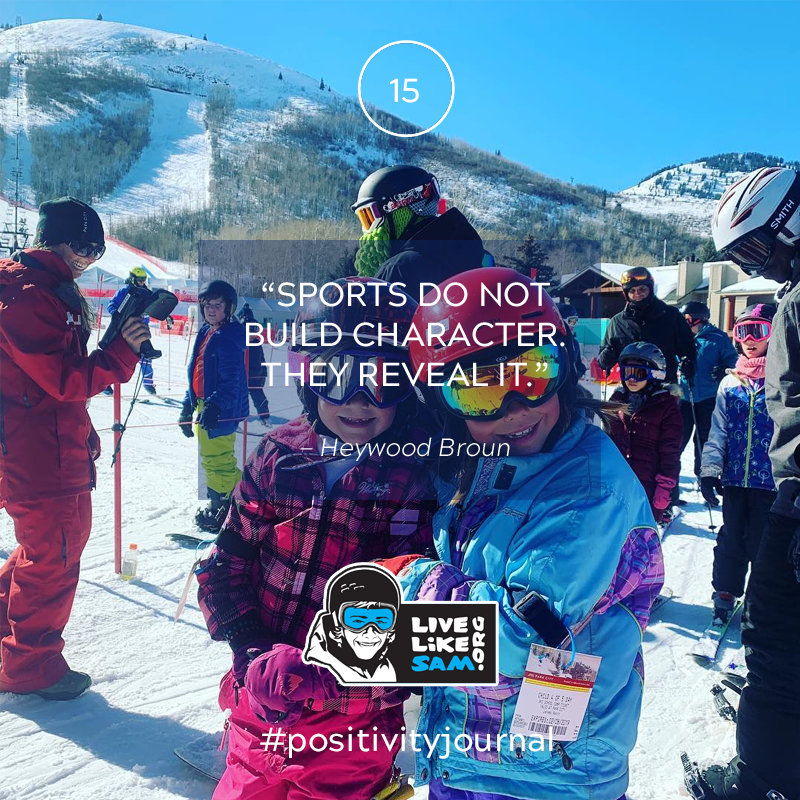 Throughout his years of athletic participation, Sam took every opportunity to help others along the way. From giving advice to fledgling free-skiers to showing Park City transplants around town, his charitable spirit played a huge part in not only his success as an athlete, but in his legacy of positivity.
Interested in becoming a volunteer? Our partner, the Park City Education Foundation, offers multiple volunteer opportunities throughout the year. Visit their website to find out more information. For scholarship opportunities, events, and more, sign up for the Live Like Sam newsletter today!